Paintings



Gebbie's paintings are large, square, wildy colourful and differ in style, each to each. The subject matter often deals with issues of everyday intimacy – Man, Woman, Mother and Daughter; the perceptual challenges of being locked inside one's head while trying to untie the Gordian Knot of relativity to one's own experiences, and more difficult even, one's relationships to others.

Her symbols are clothed in psychedelic trappings; Tibetan thangka painting, oriental brush-painting; influences like Ernst, Kunioshi, George Grosz, and folk-artists like Douanier Rousseau are all quietly present in ghost-form as influences in her Intronautical Universe.

Above all else, her work is concerned with the overwhelming effect of emotions on our lives; how they change and distort our everyday perceptions and colour the very landscape we inhabit; turning objects of love into benevolent gods and making demons of those we do not understand.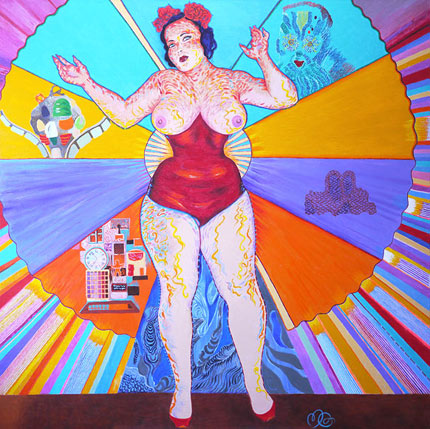 The same questions that plagued Gebbie's early work in comics are carried through into her present-day painted statements. What perpetuates the myth of Absolute Difference between Man and Woman? Why are mothers and daughters seemingly natural enemies? How do states of love and feelings of hatred shape our personal lives and actually distort consciousness? Where do we look for peace of mind, clarified thinking and a heart clear of muddled, entrapped fear and pain?

See the Paintings Documentary.